ZLP-630 Suspended platform GONDOLA
Product Detail
Quality guarantee
Product Tags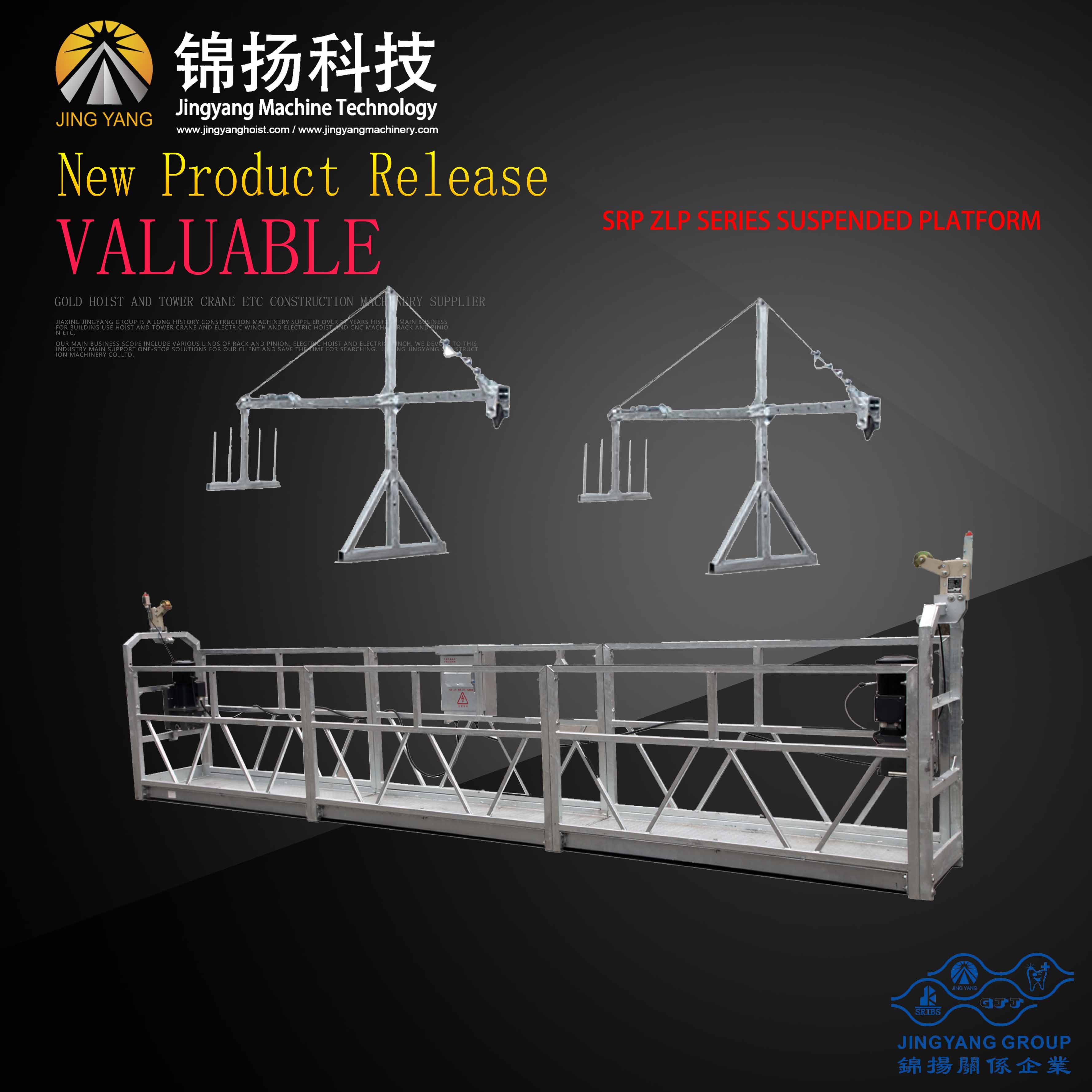 JINGYANG trademark obtained legal protection, where the website internal text and pictures, shall not be reproduced, once found, the legal responsibility. Noted!
嘉兴锦扬机电设备有限公司注册商标受法律保护,网站内部图片及文字,请勿转载,一经发现,追究法律责任!
Jiaxing Jingyang construction machinery Co. Ltd. is one high-tech enterprise engaged in manufacturing, marketing & technical service of electric suspended platform, material hoist, construction elevator, tower crane, JINGYANG gondola, jack gantry-lift and other construction equipment. At present,JINGYANG own affiliated enterprise,which is in the leading position of large construction machinery leasing industry with 17 years domestic market experience; JINGYANG factory; JINGYANG  International Trade Department which is composed of English market department, Spanish market department and Russian market department. JINGYANG actively promote industrialization, internalization and keep pursuing excellent quality to better meet new challenges and opportunities.
JINGYANG  pay great attention to product quality and credit. We are qualified by CSA, OCC, and ISO9001 and our products are CE certified. Our considerate service and excellent technology is highly praised by customers. JINGYANG technology is one of China manufacturers with a considerable production scale of suspended platform, construction elevator, material hoist, BMU system etc. JINGYANG  provide aerial working equipment with complete models, various specifications and wide application, covering almost all high-altitude construction sites. Main models of suspended platform are ZLP150, ZLP300, ZLP500, ZLP630, ZLP800 and ZLP1000. The platform length can be maximum 15m. Kinds of voltages are available, like DC 24V, 3 phases 220V/380V/415V/440V/480V, single phase 110V/220V. Normal construction hoist like SC200/200 can run steady at a high speed. Frequency conversion construction hoist like SC200/200GZ, SC200/200G are highly efficient. We supply different types of BMU system such as Luffing Jib with Rail BMU System, Hanging Rail BMU System, Davit Trolley BMU System, Telescopic Mast BMU System and Telescopic Jib BMU System etc. All products are popular for their good quality, low noise, big capacity and novel design.
JINGYANG has built a strict quality inspection system based on advanced technology and scientific management. Each production process is severely inspected and controlled by professional staff from raw material purchasing to complete machine. We choose the top quality product and make sure only the product with excellent quality and stable performance to enter the market
JINGYANG brand ZLP series suspended platform with unique top quality in the field of climbing and decorating machinery, which embody on excellent material, advanced design, refined manufacturing and good service. JINGYANG make the most comprehensive models of suspended platforms which with most wide range of applications in China. For example, specialized suspended platform for high-rise elevator shaft installation; granary and colliery security explosion-proof platform; dedicated platform for high-rise building tower crane; customized platform for shipbuilding welding and decoration; professional platform for large tank chimney and boiler maintenance; maintenance and decorative platform for dam and bridge; maintenance for exterior wall such as decorate,maintain and clean the external walls of high-level mutil-storey buildings and exterior construction,cement coating,veneer,painting,installing the glass curtain walls as well as cleaning and maintenance.
Applying this product can release scaffold free,reduce the construction cost and the efficiency will be greatly increased. Meanwhile, the production is simple, flexible, easy transfer, easy to operate, safe and reliable.
Technical Sheet

Model

ZLP500

ZLP630

ZLP800

ZLP1000

Suspended Platform & Suspension Mechanism

Rated load (kg)

500

630

800

1000

No. of Platform

2

3

3

3

Lifting speed (m/min)

9〜11

9〜11

8〜10

8〜10

Max lifting height (m)

300

300

300

300

LxWxH (mm)

(2500 x 2) x 690 X1300

(2000 x 3) x 690 X1300

(2500×3) x 690 X1300

(2500 x 3) x 690 X1300

Suspension mechanism (kg)

2×175

2×175

2×175

2×175

Brake torque

16

16

16

16

Hoist

Motor power (kw)

2×1.5

50HZ/60HZ

2×1.5

50HZ/60HZ

2×1.8

50HZ/60HZ

2×2.2

50HZ/60HZ

Motor rotation speed (r/min)

1420

1420

1420

1420

Voltage

220V/380V/

415V

220V/380V/

415V

220V/380V/

415V

220V/380V/

415V

Steel wire rope & Safety lock

Diameter of steel rope (mm)

8.3

8.3

8.6

9.1

Steel rope locking angle (° )

3° – 8。

3° – 8°

3。- 8°

3° – 8°

Steel rope falling distance (mm)

<100

<100

<100

<100

Counterweight

Material

Cement/Cement with steel cover/ Cast iron

Counterweight (kg) (optional)

25x30pcs

25x36pcs

25x40pcs

25x44pcs
ZLP630
Technical Parameter of ZLP630
 

 

ZLP630

Model No.

 

 

630kg

Rated Load

 

9.6m/min

Lifting Speed

 

 

2m x 3 sections

Standard length

 

 

(2000mmX3mm)X690mmX1300mm

Dimension of platform (L X W X H)

Hoist Power

1.5kwx2pcs

 

LTD6.3

Model of hoist

 
---
Previous:
ALIMAK-CONTROL-PANEL-BATTERY-301187830
---
We guaranee our product all origional GJJ high quality item, no fake item supply.